How do I place an order?
Why order from Minata?
we've been in business for 43 years
our designers are as reliable as we are
we guarantee all items sold are exactly as specified
we are members of the Jewelers Association of America, the Diamond Dealers of America, and the North Carolina Jewelers Association
a significant portion of our business is derived from repeat customers and personal referrals
Do you have a physical storefront?
In April 2009, we closed our retail store at the University Mall in Chapel Hill, NC (which we occupied for thirty-seven years) to focus on exclusive projects with our designers and to expand our successful internet business. We'll admit having a little more time for the family was also part of the objective.
We've been selling online to customers both locally and around the world for years with the same incredible guarantees, and the assurance you are purchasing from one of the areas most respected jewelers. If you are local we are happy to meet with you one-on-one, and still handle repairs and custom commission work.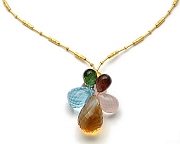 Why can't I place orders for items through an online shopping cart?
Many items we sell are exclusive, handcrafted designs produced in small quantities or on demand. With this in mind, we prefer having direct contact with our customers prior to an order being placed. This allows us to advise you of availability, delivery, and/or possible options.
How long does it take to receive an order?
If the item is in stock, we ship within 24 hours. If the item is made to order, it generally takes 3-6 weeks. A 50% non-refundable deposit is required for all custom orders.
How do you ship orders?
Depending on the item(s) purchased, we ship either by registered USPS mail or UPS. We do not charge for shipping and insurance for jewelry; however, larger items such as glassware, sculpture, etc. may incur a 10 – 15% packing charge. We'll discuss this with you when placing an order.
What is your return policy?
If the item was in stock and you are not satisfied with your purchase, you can return the item in its original condition for a refund or exchange within 15 days of shipment. Custom items, or items that show signs of wear, have been resized, engraved, altered, or damaged in any way cannot be accepted for return. Please contact us before returning an item; items returned without pre-authorization will be returned to the sender.
What payment methods do you accept?
We accept MasterCard, Visa and American Express. On large purchases we may ask you to fax us a copy of the front and back of your credit card, along with a copy of your drivers license. Please do not be offended by this request … it is for your credit protection, and ours. We will also accept personal checks with the same faxed ID.
Will you gift wrap an item? And is there an extra charge?
We're happy to gift wrap items with our compliments. Just let us know when placing your order.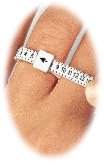 I'm ordering a ring. How do I determine my ring size?
Let us know if you need a ring sizer, and we'll send you one in the mail. Note: It is always best to measure your ring size at the end of the day and when your hands are warm (to account for swelling etc.).
Is an appraisal included with my purchase?
All jewelry priced $500.00 and over is accompanied by an appraisal. Our appraisal includes a brief description of the item, a photograph of the item, and the cut, color, clarity, and carat weight (for diamonds), or millimeter dimensions (for gemstones).
Do you offer a guarantee on the stones in your jewelry?
We guarantee the authenticity and the stated specifications of all jewelry we sell. More specifically
Diamonds: All our diamond jewelry has colorless to near colorless (D-J) and eye-clean (VVS-SI) stones. If a piece of jewelry is fabricated with colored diamonds (e.g. black, cognac, fancy yellow, etc.) it will be indicated in the description.
Pearls: Pearls in all our Tahitian and South Sea cultured pearl jewelry must have a high to medium luster and smooth surfaces without noticeable blemishes. They must also be mostly round in shape, although we do offer baroque and off-round pearls as well.
Gold: We offer the finest 14k, 18k white and yellow gold, as well as 22k and 24k yellow gold jewelry. Our 24k gold jewelry is worked by the artisan to increase the tensile strength.
Platinum: Our platinum jewelry is made with the strongest and durable jewelry grade platinum.
Sterling Silver: All our sterling silver jewelry is stamped with a mark of purity.